There's nothing quite like the exciting rush of college football. The energy from the crowds. The cheering and the anticipation of your college team is going to win. Whether you're cheering outside for the quarterback or rooting for your favorite college basketball team from the bleachers, you want to make sure you look and feel your best when you're sitting or standing for hours. Here are ten cute college game day outfits for any mom looking for stylish outfits to rock this season.
1. Graphic Tee, Straight Jeans, and Trendy Sneakers
You might think that the classic graphic tee is just for your teenager or your college student when they don't know what else to wear. When we say graphic tee, we're not talking about those old graphic tees that keep piling up in your kids' drawers at home. There are plenty of  trendy graphic tees and other cute women's clothing that go perfectly with straight jeans and street style sneakers for game day.
2. Sweatshirt, Skinny Jeans, and Ankle Booties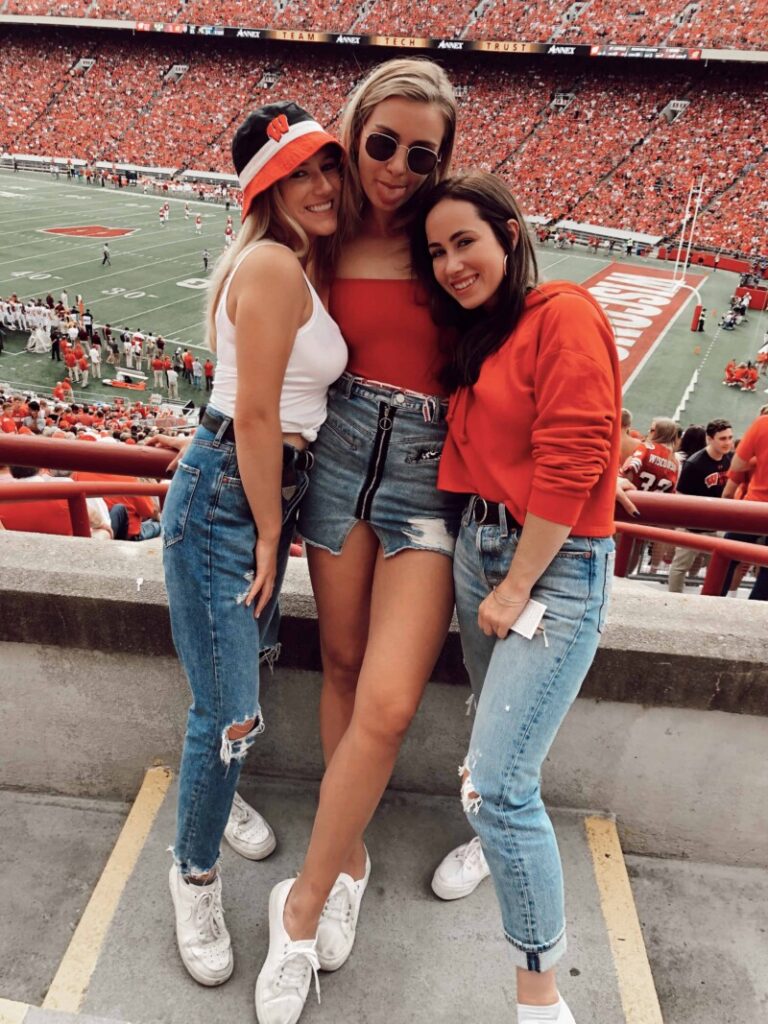 You're not going to want to wear sky-high stilettos or any kind of super high heels at the game. They're not practical, they're not comfortable, and, frankly, they're not the right vibe for a college game day. If you do want a little lift, opt for ankle booties instead. Pair these with a sweatshirt and skinny jeans. If it's too hot, you may want to opt for a lighter kind of denim. Take a look at trendy jeans for women and try straight or boot cut jeans as an alternative.
3. Flowy Midi Dress and Sandals
Be all free and flowy in a flowy midi dress and sandals. When it's hot out, you'll be nice and comfy in a breathable dress and sandals. Even if the weather turns on you, you can layer up with a windbreaker or jean jacket to stay warm.
4. Breathable Blouse, Shorts, and Comfortable Flats
In case you haven't seen the pattern just yet, the key to a great game day outfit is comfort. Don't sweat it out in fabrics that will stick to your body. Instead, you'll want a breathable blouse made out of materials like cotton or silk. Pair the blouse with shorts and comfortable flats.
5. Tank Top, Cotton Shorts, and Canvas Espadrilles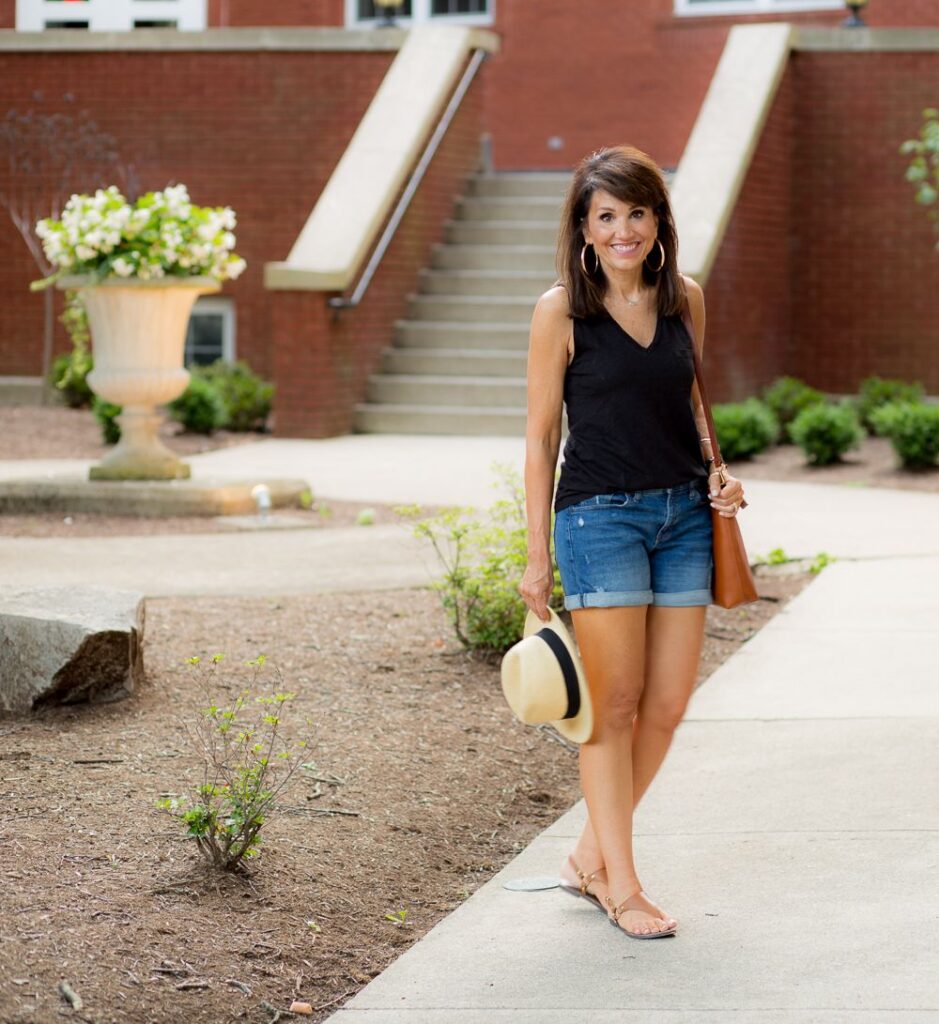 If you want to give comfort a little zhuzh, wear a tank top, cotton shorts, and canvas espadrilles for height. Espadrilles are a great alternative for ladies that enjoy wearing high heels but need a bit more comfort.
6. Beanie and Leather Jacket
There are so many different ways to rock the beanie and leather jacket. This look works well both on the bleachers and after the game for dinner with family or drinks with friends. You can wear anything under the leather jacket, from breezy blouses to fitted tops. Get inspired by game day clothing for more ideas.
7. Layer Up with a Faux Fur Jacket
You don't need to rock the legit fur. Instead, opt for a faux fur jacket to keep yourself warm on those chilly fall days. Try a puffer vest with a faux fur trim hood. Accessorize with notable textures like a long cashmere cardigan and stretch t-shirt. This look pairs well with a plaid scarf or a scarf in your school's colors. A faux fur jacket acts as an instant statement piece over any top or dress during game day. After all, you're not just any mom. You're a cool mom.
8. Don't Forget to Accessorize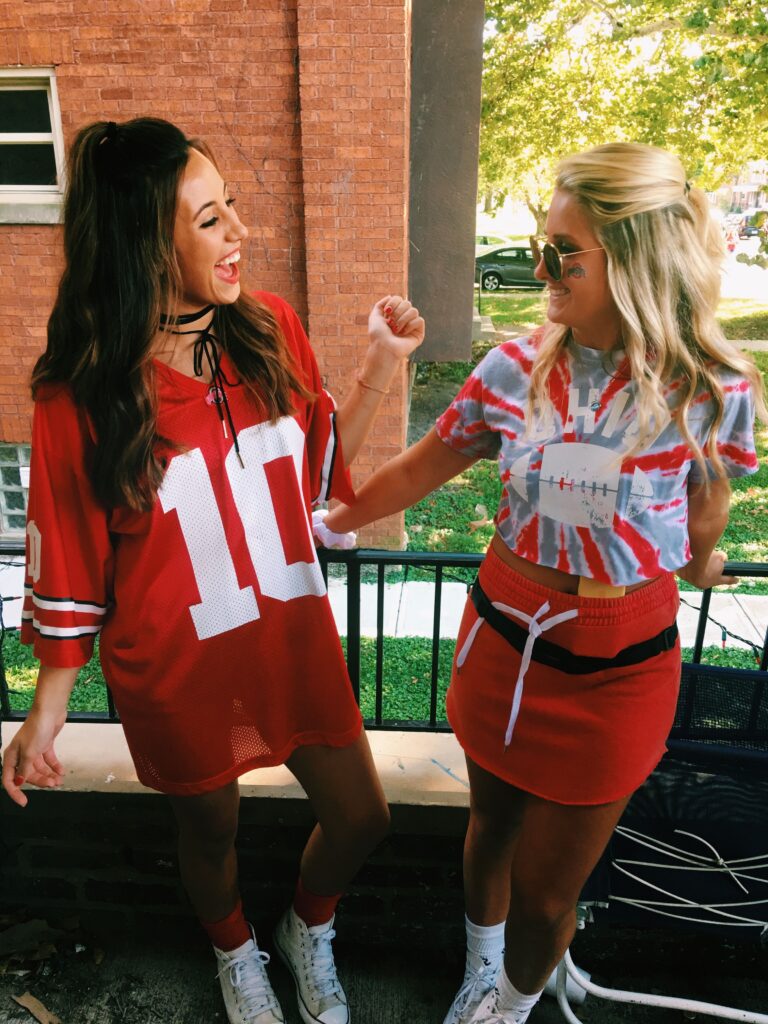 Did you know that there are six major bowl games that determine the final college football national championship game? If your college team is lucky enough to make any of those bowls, let alone the championship game, you'll want to make sure you accessorize accordingly. Have fun with different accessories depending on the colors of your school or your school mascot. Show college pride with earrings in your school colors or scarves patterned with your college mascot.
9. Wear School Colors
You can combine any of these outfit ideas and wear them in school colors. Get a comfortable blouse and flats in your school colors. If they're blue and yellow, get a blue dress and yellow sandals. If they're red and white, rock a red graphic tee and white sneakers. It's all about showing your school spirit. Even with neutral-colored clothing, you can also accessorize with tote bags or scarves to add on school colors.
10. Rock the Fanny Pack
At the end of the day, you need what's comfortable above all else. That may mean leaving the big ol' purse at home. Don't worry: You can still rock a seriously stylish fanny pack. Wait, did you just read "stylish" and "fanny pack" in the same sentence? Yes, that's because today's modern fanny packs aren't what your dad used to wear back in the 90s. Today's fanny packs come in fun patterns, bold colors, and even crossbody designs for extra support. Pack your game day snacks and get ready to cheer on your team!